I help small businesses
sell more online
Struggling to increase your online sales?
I have been helping small businesses get online and increasing their sales for almost 10 years. One of these businesses was as Sussex based beauty product producer selling their products online and offline, desperately looking for a solution to increase their ailing sales efforts.

This business had previously worked with a huge number of website designers, marketing consultants and SEO experts, all promising the earth - but failing to deliver any real results.

I was brought in as a last resort to kick-start their sales efforts, we worked together to get a new e-commerce website together and a fully fledged, targeted internet marketing strategy in place.

The strategy paid off, after launching their new site - within the first 3 months they sold more products online than they did with their old website in a whole year, and after 12 weeks of intense internet marketing coaching, their online sales overtook their offline sales for the first time ever.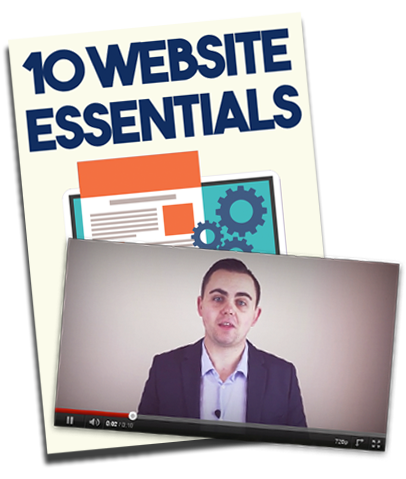 10 Website Sales Essentials
Free downloadable checklist & explainer video
Download your own free printable website essentials checklist and follow-up explainer video. Discover what internet marketing and sales experts around the world believe to be the top 10 essentials every business website needs to include to ramp up their online sales.

No sales efforts from me, no fluff - and obviously no spam, simply add your email below and hit 'download' to get your hands on the free checklist:
Positive Feedback From My Internet Marketing Clients
'The Most Ethical & Professional Online Marketing Consultant'
"Liam has added tremendous value to my business by advising and implementing an inventive and value for money solution to our SEO requirements. We have run websites since 2001 and he is by far the most ethical and professional online marketing consultant that we have engaged with."
John Rankin
J A Rankin Financial Services
'Focused Solely On Making The Sale and Smashing His Goals''

"Liam isn't afraid to tell businesses how it is, if your online marketing isn't working - Liam will tell you, and give actionable, direct instructions on how to fix it. As any business needs of their marketing people - he's focussed solely on making the sale and smashing his goals. I cannot recommend Liam enough! He is purely amazing, and would be a great asset to any business."
Luke Roberts
Hastings Voice
Need help with your businesses online sales & internet marketing?
Online marketing is simple - it's about making a SALE. It's not about how many Twitter followers you have, expensive corporate identities or fancy CRM's. It's about sales and bringing in the money. My clients understand this, they work with me to help them do just this. 
If that's what you're after, fluff and business BS aside, complete the form to the right and let's see how we can work together on your internet marketing project.

Liam Atkins Limited - Company Number 09616454